Autumn Leaves: Pots by Neal Loken
---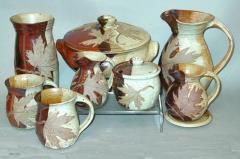 For the month of October, Maine Potters Market features the work of Neal Loken. Neal has been a potter for about 45 years. He studied pottery and learned to throw on the wheel from Hitomi Masatugi, a Japanese potter in Kyoto Japan in 1971. In the year in Japan, his teacher concentrated on teaching about nine shapes, beginning with small saki cups and tea cups and working up to larger forms such as bowls, teapots and pitchers. Neal learned to work to a rigorous standard. For example, one would take ten mugs and put bottoms of two together so they matched and put their tops together so they matched; then line up ten mugs in a row and lay a stick across all so that it touched each cup. Neal mixes his own clay and glazes from recipes he has collected and adjusted over the years. Some years ago, he started adding maple leaves (silver maple and sugar maple) to the clay surface which burn off in the first firing before the pottery is glazed. Tiny variables in clay, glaze ingredients, thinness or thickness of the glaze and even weather conditions can affect the final results. This all keeps pottery production interesting and challenging.
ABOUT MAINE POTTERS MARKET – Founded in 1978 by a group of potters who envisioned a cooperative market where they could educate customers and sell their wares to the public, Maine Potters Market currently consists of fourteen Maine potters working in twelve studios throughout the state. The rich variety of handmade work available for sale keeps Maine Potters Market customers returning.
October hours: Sunday–Thursday: 10am-6pm; Friday and Saturday: 10am–9pm.