Celebrating Daily Ritual: New Work by Elizabeth Louden
---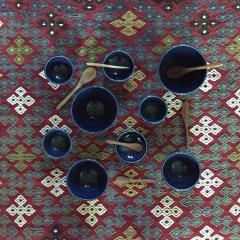 "If you want a golden rule that will fit everything, this is it: Have nothing in your houses that you do not know to be useful or believe to be beautiful."
- William Morris
For the month of August, Maine Potters Market will feature new work by Elizabeth Louden. Her richly colored porcelain pieces are both functional and decorative, and are very much intended for daily use.
Day to day life is filled with a series of mundane interactions between people and objects. Most things today are produced as quickly and cheaply as possible, with little attention to quality, ethics or aesthetics. It is easy to quantify some of the harm, such as a toll on the environment and labor conditions. Some are harder – how does it affect one's well-being to live in an environment devoid of beauty? Objects have the power to enrich our lives. They help us savor experiences and offer a bridge to our physical world.
I make craft objects because I'm intrigued by the relationship between form and function. All of my pieces are intended to be touched and used. I want people to take an extra moment in the morning to enjoy their coffee, holding, in their hands, a mug intentionally and caringly made by two other human hands. I want the most routine part of their day to become a more joyful and connecting experience through their simple interaction with a piece. This both elevates the ordinary to the ritual and brings the ritual to the tangible level of daily life.
ABOUT ELIZABETH LOUDEN - Elizabeth is a potter based out of Portland, Maine. She attended Union College and the University of Southern Maine, where she graduated in 2011 with a BA in Art History and German. It was during her undergraduate studies that she became enamored of the philosophies of the Arts & Crafts movement and the Wiener Werkstätte; she hasn't looked back.
ABOUT MAINE POTTERS MARKET – Founded in 1978 by a group of potters who envisioned a cooperative market where they could educate customers and sell their wares to the public, Maine Potters Market currently consists of fourteen Maine potters working in Maine twelve studios. The rich variety of handmade work available for sale keeps Maine Potters Market customers returning. August hours: 10 – 9 daily.