European Travel Workshops Available for Art Students
---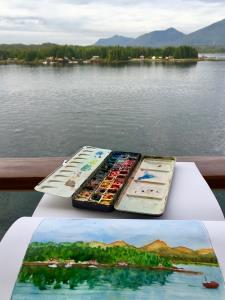 I am a watercolorist and teaching artist. Every year, I take groups of adult art students to Europe for art classes and travel. After organizing about a dozen workshops, I co-founded a company, World Tours Studio, to help other artists set up their own travel workshops to Europe and Italy in particular.
World Tours Studio is headquartered in Verona, Italy with a staff that can expertly research and book accommodations, ground transportation and activities for groups. World Tours Studio also has an office at Cloud 9, in Bothell where I am happy to help you create the workshop you want to lead.
I would like to get the word out to your artists and let them know about the services I offer. Artists and writers have been booking workshops with us to ease the workload. They provide dates and destinations and we do the rest, putting together a package that then the artists can offer to their students. We take care of all the logistics while artists are freed up to put together their curriculum and fill their workshops.
Our website is at
http://www.worldtoursstudio.com
. We have organized unique opportunities of study and travel for numerous U.S. universities, businesses, artists and writers. I would welcome the opportunity to talk with you about possible ways we could work together to create art adventures both abroad and throughout the US.
If this is something that holds some interest to you, please let me know. I would welcome the opportunity to share more.