Flaws for a Cause
---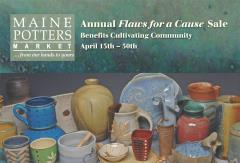 For April 15-30, Maine Potters Market will be hosting its Annual Flaws for a Cause Sale. The shop will be filled with many slightly flawed but very usable pots at very low prices! It's a great chance to find some incredible bargains for your home, while helping to fund Cultivating Community, an organization that teaches food sustainability and helps put food on the tables of Mainers in need.
The story that inspired our Flaws for a Cause Sale:
Every day a water-bearer carried two jugs of water up the hill from the river. One pot had a crack along the bottom where the water dripped out. The other was perfect and always delivered a full measure.
One day the cracked pot, ashamed of its imperfection, apologized to the water-bearer. 'I'm sorry that I don't do my job well. I feel bad that my flaw makes you work harder.'
The water-bearer smiled gently and said "I've always known about your flaw and that is why I plant flower seeds on your side of the path. As we walk back home, you water them. If it weren't for your flaw, I wouldn't have these beautiful flowers to grace my home."
Our beautiful flawed pots will add grace to your home while helping to "water" the gardens and programs of Cultivating Community.
ABOUT MAINE POTTERS MARKET – Founded in 1978 by a group of potters who envisioned a cooperative market where they could educate customers and sell their wares to the public, Maine Potters Market currently consists of thirteen potters from twelve Maine studios. The rich variety of handmade work available for sale keeps Maine Potters Market customers returning.