Levitt Amp Your City Grant Awards | $25k Matching Grants
---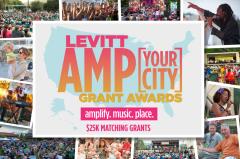 BRING FREE OUTDOOR CONCERTS TO YOUR TOWN OR CITY!
The Levitt AMP [Your City] Grant Awards is an exciting matching grant program bringing the joy of free, live music to small and mid-sized towns and cities across the country. Learn more about how to win a $25K matching grant.
or
or
Reflecting our commitment that all Levitt projects be community-driven, the Top 25 Levitt AMP finalists will be selected by YOU! Sign up now to receive Levitt updates and the latest Levitt AMP news. And be sure to help spread the word!