Maine Arts Monthly - December
---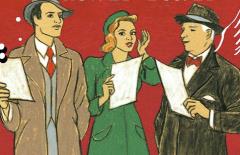 Maine Arts Monthly - December Edition
December is a time to get out and enjoy all the things the Pine Tree State offers. We know the holidays can bring about unwanted stress levels that surge between gift shopping for that one family member who has everything, and wondering if that Jello mold you've made for the office party will be a smash hit. Don't let the holiday frenzy get the best of you. Get out and enjoy the plethora of concerts, workshops and family events that our Partnership Grant recipients are putting on this month. From celebrating holiday traditions of the Nutcracker and White Christmas, to a relaxing stroll through an art gallery, or the taking in of a family friendly film series, this edition of Maine Arts Monthly has something for everyone. Enjoy!
Batik cover art courtesy of Eastport Arts Center.
12/8: Quoddy Voices Concerts: "A Light in the Darkness." 7:00 p.m. - 9:00 p.m. & Sunday 12/10 - 3:00 p.m. Suggested ticket price: $10
Quoddy Voices, a community chorus formed in 2014, will present the recent work "Children of the Light," by director John Newell.
The show will also feature "Heavenly Light", a work by the 19th century Russian composer Alexander Kopylov. It is followed by works that will celebrate the lights of the season, including two settings of the Latin hymn "O Nata Lux" (O light born from light) by the Renaissance composer Thomas Tallis and the other by the American Morten Lauridsen.
12/09 - 10:00 a.m. - 12:00 p.m.
Mugs, tiles and boxes and more are ready for you to add your personal touch. You decorate them, we'll fire them, and you pick them up in a few days.
Cover price ($18) includes one mug or tile; a small selection of other pieces will be available as well.
Running through 12/24 7:00 p.m. (Including weekend matinees) Performance Schedule
Adapted by Joe Landry,

t

his heartwarming story of renewal is presented as a 1940's radio broadcast with sound effects performed live on stage.
With the help of an ensemble and an angel named Clarence, George Bailey learns the million different ways that we are tied to those around us.
12/16 - 12/17 -12:30 p.m., 3:00 p.m., 5:00 p.m. @ The Collins Center for the Arts
A holiday tradition for all ages, the BSO's annual production of

The Nutcracker

with the Robinson Ballet is beloved by audiences throughout Maine.

(Tickets are now on sale! Call 1-800-622-TIXX or order online. Groups of 10 or more save 10% on your order.)
12/15 Noontime Talk: "Ahead of Her Time: Nancy Hemenway Barton's Lume III" 12:00 p.m.
Join Anne B. Zill, curator of The University of New England Art Gallery on the Portland Campus, for her talk.
Free with museum admission.
12/22 Mindfulness In the Galleries: Winter Solstice 12:00 p.m.
Join us in the galleries to give thanks for the darkness—the yin to the yang of light—on the cusp of the winter solstice.
During this meditation session, explore art with darker color palettes, before practicing simple seated, guided meditation.
Image: Andrew Winter (United States, born Estonia), 1892–1958, "Below Zero--Two Lights, Cape Elizabeth" (detail), 1934, oil on canvas, bequest of Elizabeth B. Noyce, 1996.38.55
12/16 Kid Flix: The Best of the New York Int'l Children's Film Festival 1:00 p.m. - 2:00 p.m. FREE for children, adults: $8.50
Enjoy this wonderful line-up of playful and enchanting films all suitable for children
Visually innovative animation and many Audience Award winners from the 2017 New York International Children's Film Festival. Kid Flix is perfect for kids ages 3 to 7 and up.
Filter Press Releases
Contact Information
Ryan Leighton
193 State Street
SHS 25
Augusta
ME
04333
207-287-2726
vog.eniam@nothgiel.j.nayr