Maine folk musicians apply to showcase at New England Regional Folk Alliance
---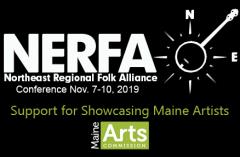 Maine artists can apply to showcase at

NERFA

for free!
Deadline 06-24-2019
The Maine Arts Commission is pleased to be working with the Northeast Regional Folk Alliance (NERFA) to support Maine performing artists wishing to showcase at the 2019 NERFA Conference. The 2019 conference will be held in Stamford, Connecticut on November 7-10, 2019 and the Maine Arts Commission will cover the application fee of the first ten (10) Maine artists/groups interested in showcasing. Artists from Maine interested in applying to showcase should check the "Yes" box under 'Are you a Maine Arts Commission funded artist?' on the registration page to have the $25 showcase application fees waived. Application deadline is June 24, 2019.
More than 700 performing artists, presenters, promoters, agents, managers, folk DJs, and others actively engaged in contemporary and traditional folk music attend NERFA's annual conference. The Northeast Regional Folk Alliance is a regional affiliate of Folk Alliance International (FAI), that serves Folk artists from the northern Virginia to the provinces of eastern Canada. NERFA is a nonprofit organization that aims to serve, strengthen, and engage the global folk music community through preservation, presentation, and promotion. The FAI folk umbrella represents the broadest international iteration of the genre, encompassing a diverse array of music including Appalachian, Americana, Blues, Bluegrass, Celtic, Cajun, Francophone, Global Roots, Indigenous, Latin, Old-Time, Traditional, Singer-Songwriter, Spoken Word and every imaginable fusion.
There are two types of Official Showcases at the NERFA conference: Formal and Semi-formal. Artists are required to apply and a jury of music professionals will select which artists will be featured in the Official Showcases. The juried Formal Showcase is the premier showcase performance time slot at the NERFA conference. Only 14 performance slots are available and each performance slot is 15 minutes. The Formal Showcase is held between 7-9:30 p.m. on Friday and Saturday in the ballroom of the hotel. Immediately following the Formal Showcase on Friday and Saturday evening, the Semi-formal Showcases run from 9:45-11:20 p.m. Three conference rooms of showcases run concurrently. Each performance slot is 15 minutes long. Like the Formal Showcase, nothing else is allowed to go on while the Semi-formal Showcases are in operation. Complete information, and the showcase application can be found at https://nerfa.org/annual-conference/official-showcase-information/.