Moosehead Artisan Village - Taking Applications
---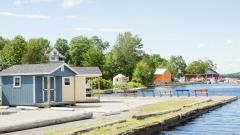 MOOSEHEAD LAKESHORE ARTISAN VILLAGE – NOW ACCEPTING APPLICATIONS
The Moosehead Lake Region Economic Development Corporation (MLREDC) will launch its Artisan Village on the southern shore of Moosehead Lake in Greenville, after a successful initial pilot in summer, 2017. The Village offers a unique opportunity to market arts and crafts to local residents and to the thousands of tourists who visit the Moosehead Lake region during the summer season.
Four cottages will be available throughout the summer as an affordable venue for artisans to share their talents. The location is highly visible space among other shops, restaurants, and museums in the center of town. Each cottage is 10' x 8' with a 10' x 4' covered front porch with railing. There is a large double door equipped with a security lock and windows on two sides.
The cottages will be open weekends from Saturday, May 26, through Sunday, June 24, and then again from Saturday, September 15, through Sunday, October 14, during the summer's "shoulder" season.
The cottages will be open weekly Thursday through Monday from June 28 through September 10 when artists are in residence.
Weekend rental is $30, and the week rental is $75. There is a $25 application fee for first-time applicants, along with a general liability insurance requirement. A special rate lodging list is available for participants. The Artisan Village Programming Committee will consider special requests from artists who would like to participate but would like flexibility in the number of days leased. Please make this special request on the application form.
For more information and to apply online, visit the website at www.mooseheadartisanvillage.com.
The Moosehead Lake Artisan Village is one of the Moosehead community's creative strategies to enhance the downtown experience for visitors and residents and, long term, to increase economic prosperity in the region.
Join this new, exciting venture and experience one of the most remarkable and stunningly beautiful places in Maine!
Here's what some artists are saying:
"I'm an artist who has lived and worked in central Maine for 50 + years. I've fished, hunted, and hiked the Moosehead Greenville area my entire life. My connection to the place is strong as it has formed who I am as an artist. I can't think of anything more appropriate then to add my work to the region." Doug Frati, Doug Frati Art, Palmyra, Maine, who will be at the Village on July 26-30.
"We just love the idea of the Artisan Village. We want to support this and also share our craft." Mimosa Mack, Sprig Woodwork in South Solon, Maine, who will be at the Village on June 23-24.