New Photographs by Lynn Karlin, Marquetry by James Macdonald at MFT Gallery
---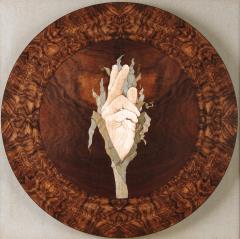 Another artist who wants to treat his subjects in a way that reveals both their importance and aesthetics is Unity artist and craftsman James Macdonald. His exceptional marquetry work – defined as the art and craft of applying pieces of veneer to a structure, in order to form decorative patterns, designs or pictures – will be shown on the gallery's second floor.
Macdonald's body of work, titled Growers and Grown, was funded by an Artist Project Grant from the Maine Arts Commission and features new farmers in Waldo County. Says Macdonald: "My work in this exhibition comes from my fascination with the relationship between us and the food we eat. Here I've chosen to present a mix of work showing local farmers, food, and hand tools. My desire is to treat and display these subjects in a way that reveals their beauty, necessity, and magnificence."
The exhibit runs from Friday September 23rd through October 31st, with an artist talk on opening day September 23rd from 4:30-5:30pm and a reception on the same evening, from 5:30-8pm, during the Belfast Art Walk.
MFT Gallery, located at 97 Main Street, Belfast, is open Monday through Friday from 9am-4pm. On Fourth Friday Art Walks, the gallery is open until 8pm. The gallery is also open for Belfast Creative Coalition's Cultivate Tour, on Saturday October 8, from 10am-3pm. More information can be found at www.mainefarmlandtrust.org/public-outreach-new/gallery/ .