New student art exhibition at State Capitol Complex
---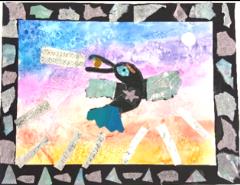 Maine Arts Commission presents new student exhibition at State Capitol Complex
Exhibition open to the public from December 2019 – April 2020.
The Maine Arts Commission is pleased to announce the installation of the 2019-2020 Maine Excellence in Arts Education Exhibition at the State Capitol Complex in Augusta. Visual art teachers from schools throughout Maine submitted one piece of two-dimensional artwork that represents artistic excellence from a K-12 student. The work showcases a wide range of ages, media, and styles, with 14 counties represented. Selected works are installed in various locations around the Capitol Complex: the State House, the Cross Office Building (second floor), and the office of the Maine Arts Commission, 193 State Street, from December 6, 2019 - April 30, 2020.
Visitors to the Capitol area are invited to pause and enjoy the artwork. A complete list of participating students, their teachers, and the location of their work can be obtained at the front desk of the Maine Arts Commission office, across from the Blaine House.
"We are so pleased to share the results of student and teacher collaboration with the public here at the Capitol Complex," said Martha Piscuskas, Interim Director of Arts Education at the Maine Arts Commission. "Maine teachers are such excellent advocates for their students, and these art teachers regularly go the extra mile to support their creativity. This exhibition is the evidence."
In March 2020, during National Youth Art Month, the public will be invited to a celebration in the Hall of Flags, joining the student artists, their families and art teachers, and state officials to honor these young artists and performers.
The Maine Arts Commission believes it is essential for every student to have access to a quality and comprehensive visual and performing arts education. Arts learning empowers students to develop their critical thinking, collaborative, and creative skills necessary to succeed in the ever-changing diverse and global economies of today's world.
The Maine Arts Commission, an independent state agency, was established by the Legislature in 1966 to "encourage and stimulate public interest and participation in the cultural heritage and programs of our state and to expand the state's cultural resources." Governed by statutes, the agency works to advance the arts by supplying services and results-oriented funding to artists, arts organizations, communities and schools, and resources and information about arts and culture to the general public. For more information, please visit www.MaineArts.com.
Filter Press Releases
Contact Information
Ryan Leighton
193 State Street
SHS 25
Augusta
ME
04333
207-287-2726
vog.eniam@nothgiel.j.nayr