Pam Cabanas Solo Exhibition- "HARBOR MASTERS"
---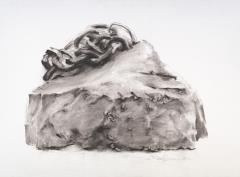 The Granite Gallery presents a solo exhibition of recent works by Friendship artist Pam Cabañas.
The show entitled "Harbor Masters" features a series of dramatic drawings inspired by the Maine fishing harbors from Friendship to Port Clyde.
Working with a monochromatic palette which ranges from delicate grays to dense blacks, Cabañas offers us a view of the Maine coast that is neither sentimental nor idealized.
In these works, the realms of time and physical work are made concrete in her depictions of water, stone, and rust.
"Cabañas' drawings are uncompromising–all the more engaging and beautiful because they are true." – Alan Magee.
Event – Pam Cabañas – "Harbor Masters" – a solo exhibition
Place – Granite Gallery, 68 Main Street, Tenants Harbor, Maine
Exhibition dates – August 11 – 17
Gallery Hours – daily 10 AM – 5 PM
Opening Reception – Friday August 12, 5 – 8 pm
The exhibition is on view from August 11 – 17, 2016. Opening reception held on Friday, August 12, from 5 – 8 pm . Gallery hours are daily 10 am to 5 pm. The Granite gallery is located on Main Street (Rte.131) , Tenants Harbor, Maine