Printmaking Exhibition: "A Sense of Place / El Sentido del Lugar"
---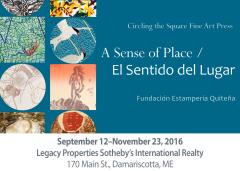 A Sense of Place / El Sentido del Lugar makes its MidCoast Maine debut at Legacy Properties Sotheby's International Realty in downtown Damariscotta from September 12 through November 23, 2016. An opening reception is scheduled for September 16 from 4:00 to 7:00 pm at Sotheby's Legacy office, coinciding with Damariscotta's 3 Friday ArtWalk. An artists' talk is scheduled during the October ArtWalk, at 5:00 pm on October 21.
A Sense of Place / El Sentido del Lugar is a cross-cultural, collaborative printmaking exhibition of 90 original works created by members of two fine art presses separated by 3,800 miles. Circling the Square Fine Art Press of Gardiner, Maine and Fundación Estampería Quiteña of Quito, Ecuador celebrate a visual conversation on sustainability, biodiversity and the ways local changes may make global impacts.Sixty of the prints from the original exhibition will be shown in Damariscotta this fall.
Participating are seventeen artists from Circling the Square Fine Art Press, led by director Karen Adrienne, and fifteen from the Fundación Estampería Quiteña. Press member Judith Long, who has family in Quito, is the International Facilitator who brought the two presses together for this project and facilitated the English and Spanish conversations.
Circling the Square Fine Art Press is grateful to Damariscotta's Midcoast Print Makers, who rented their large Conrad Press to provide extra press capacity. Early last year as the artists began making their prints, professional movers were hired to bring the press to Gardiner. The seventeen artists at Circling the Square worked feverishly during some intense, sixteen-hour days to produce forty-five editions of seven prints each for the exhibition.
Artists from each press created two limited edition prints and one intervention print that focus on sustainability and biodiversity. The intervention print, initiated by an artist at one press, was sent to an artist at the other press to complete. These shared visions and artistic conversations about environmental concerns are communicated through lithography, serigraphy, linocut, intaglio and various other printmaking techniques.
The participating Maine artists are: Karen Adrienne, Robin Brooks, Judith DeMilo-Brown, Christine J. Higgins, Judith Long, Diana McFarland, Christine Olson, Rebeka Ouellette, Jane Page-Conway, Donna Parkinson, Ellen Roberts, Kris Sader, Susan Dean Smith, J. P. Strode, Sarah Vosmus, Lisa F. Wheeler and Barbra Whitten. During 2016 this dynamic exhibition travels to five venues in Maine. An identical exhibition opened at the Metropolitan Cultural Center in the colonial center of Quito, Ecuador on March 18. Four of the Maine artists participated in the Quito opening. The exhibition will also travel to Boston University School of Theology in January 2017 for two months. A bilingual exhibition catalog is available at all venues.
Legacy Properties Sotheby's International Realty, 170 Main Street, Damariscotta, ME 04543 is open Monday through Friday from 9 am to 5 pm; closed weekends. FMI: 207-563-2775.