TAKE 5 -Get To Know: Amanda Huotari
---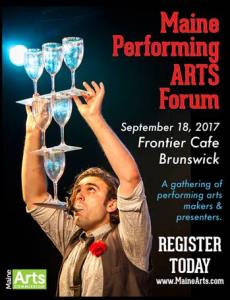 This spotlight series features the panelists for the Maine Performing Arts Forum on September 18 in Brunswick. Each speaker has provided a mini-biography along with 5 answers so we can get to know them better prior to the event. This diverse group of producers and presenters—in theater, music, and dance, from orginzations from throughout the state—are known for their success and leadership within Maine's performing arts sector. For "Take 5" each speaker has provided a mini-biography along with 5 answers to "get to know" the panelists better. Check back here for new Take 5's every day leading up to the Performing Arts Forum. Learn more about the forum and
Since 2007, Amanda Huotari has served as Executive Artistic Director of Celebration Barn Theater in South Paris, where she annually produces 30 performances on-site and at community events and hosts 150 international artists who come to train in physical theater workshops, create in residencies, and perform in the Barn's show series. As a performer, Amanda earned a BFA in acting from Emerson College, studied physical theater at L'École Internationale de Théâtre Jacques Lecoq in France, and trained intensively in Commedia dell'Arte in Italy with Antonio Fava. Her own solo show, The Soiree, is directed by Broadway's Avner the Eccentric and has received accolades at festivals across the US and beyond. A seventh generation Mainer who spent seven years "away," Amanda is now raising her family in her hometown and is dedicated to supporting the development of a local culture of curiosity and creativity.
Take Five Answers:
What is your favorite thing about living in Maine?
Mud boots are always in season.
What did you want to be when you were growing up?
As a kid I used to love to watch Maine Public Television during the pledge drives so that I could mute the TV and pretend that I was doing them live in our living room. While I always wanted to be an actress, clearly I was also destined to be a fundraiser.
What single event/choice has impacted you career the most?
When I took my first workshop at Celebration Barn in 1991, I was blown away by the uniqueness, creativity, and the craft in the work of the performers at the Barn. It was in this supportive and dynamic environment that I fell in love with the process of making theater.
What is your favorite thing about working at your organization?
The Barn attracts theater artists from all over the globe, working in various genres and disciplines and at all stages of their careers. It's very exciting to see these diverse performers living and working so rigorously together in order to create something that's never been seen before.
What advice would you give yourself now if you were starting in your current position?
Think of everyone as a potential collaborator—business leaders, community members, board members, audiences, etc. There's a tremendous amount of power in identifying our common goals.
View the other Performing Arts Panelists:
Brian Hinrichs of Bangor Symphony Orchestra
Michael Miclon of Johnson Hall Performing Arts Center.
The Maine Performing Arts Forum is being hosted by the Maine Arts Commission on September 18 in Brunswick at the newly renovated Frontier Café in Brunswick. The full-day event includes a morning session for performing arts producers and an afternoon meeting for those who present the work of touring artists. Learn more and register for the Maine Performing Arts Forum
Filter Press Releases
Contact Information
Ryan Leighton
193 State Street
SHS 25
Augusta
ME
04333
207-287-2726
vog.eniam@nothgiel.j.nayr