TIGERS BE STILL
---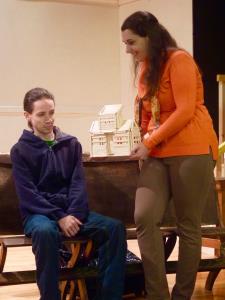 Eddington, ME -Ten Bucks Theatre Company presents TIGERS BE STILL by Kim Rosenstock and directed by Dan Burson.
TIGERS BE STILL is a quirky and hilarious story about four people hunting for joy in the modern world. Sherry has just earned her master's degree, only to find herself moving back in with her family when the job offer she's waiting for never comes. Now she's got to figure out how to be the cool substitute teacher at her old school, how to cheer-up her sister after a rough break-up, and how to get her boss's son to stop punching walls. Plus there's an escaped tiger on the loose in town. A warm, off-beat comedy that reminds us you can sometimes find your place in life through unexpected turns; like the serious healing power of Top Gun.
TIGERS BE STILL will be performed at the Eddington/Clifton Civic Center (Comins Hall) 1387 Main Road, Rt. 9 in Eddington on November 4, 5, 10, 11, 12 at 7PM and November 6 and 13 at 2PM.
All tickets are $10.00 (cash or checks, only on site). Box office in the Hall opens 1/2 hour prior to show times.
Tickets can be purchased online at http://tbt-tigersbestill.brownpapertickets.com/.
FMI: Call 207-884-1030 for information and please visit http://www.tenbuckstheatre.org/.