VentiCordi, 'Music Feeds the Soul' for Wayside Food Programs
---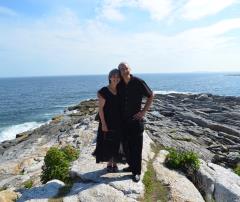 The musicians of VentiCordi, led by oboist Kathleen McNerney and violinist Dean Stein, always embody the highest levels of music making. However, their coming concerts add an important social dimension. Entitled, 'Music Feeds the Soul', VentiCordi will donate 10% of the ticket sales from their Brunswick and Kennebunkport performances to Wayside Food Programs. Wayside increases access to nutritious food for those in need in Southern Maine and Portland, and has been doing so for 31 years, with community meals, mobile food pantries, a 'Kid's Healthy Snacks' program and community gardens.
Kathleen McNerney, herself a Master Gardener, believes this fundraising for Wayside is a great way to give back to the community, through a cause everyone can get behind. As a volunteer at homeless shelters when she lived in Los Angeles, she saw the power of people coming together to help each other.
The concert will feature a work of Stephen Gryc, titled, 'Dream Vegetables', for reciter, violin, clarinet and marimba. The music brings to life the playful poems of Maggie Anderson, who invented dreams for her vegetable garden. Mr. Gryc will be present at both concerts to introduce his music.
In addition to 'Dream Vegetables, you will hear music of Milhaud, Lou Harrison, Patrick Daughtrey and August Klughardt. Joining McNerney and Stein, who will also perform on viola, is pianist Bridget Convey, percussionist Laura Jordan, and clarinetist Gary Gorczyca.
The concerts will take place on Wednesday, August 17, 7 pm at the Unitarian Universalist Church in Brunswick and again on Thursday, August 18, 7 pm at South Church in Kennebunkport. $20 General admission, $15 for Seniors, $5 for 18 and under. More information at www.VentiCordi.com or call 207-286-6688