"Holiday Offerings - 2017" opens December 1 at Richard Boyd Art Gallery
Date: December 1, 2017 - January 28, 2018 (Sunday, Friday, Saturday)
Time: 09:00 AM - 03:00 PM
Location: Richard Boyd Art Gallery, Portland
---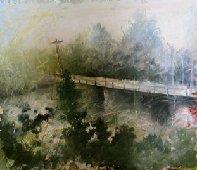 (Portland, ME) Richard Boyd Art Gallery is pleased to present an annual exhibition of original two and three-dimensional works of art on December 1 at 10:00 a.m. The show features over 30 works created en plein air or in studio depicting a range of scenes in a variety of mediums.
The exhibition includes paintings by artists' Amy Bickford, Patricia Chandler, Jane Herbert, Julianne Garvey, Jen Pagnini, and Austin Stilphen; sculptures by Charles Ellithorpe, DVM; and works in clay by Richard Boyd.
'Holiday Offerings - 2017" is open free of charge between the hours of 10:00 a.m. and 3:00 p.m. every Friday, Saturday, and Sunday through January 28, 2018. Additional days and times can be scheduled by appointment.
For more information about the exhibit please contact Richard Boyd Art Gallery by phone at (207)-712-1097, via email at info@richardboydartgallery.com or visit the gallery website at http://www.richardboydartgallery.com . Like the gallery on Facebook at http://www.facebook.com/RichardBoydArtGallery .
Copyright(C)2017 Richard Boyd Art Gallery All Rights Reserved.