ACAF Presents Chinese Cooking for the New Year
Date: February 9, 2021
Time: 07:00 PM - 08:00 PM
Location: ACAF, Freeport
---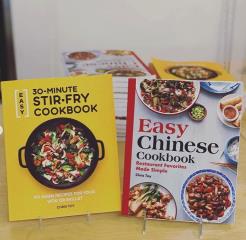 Chris Toy, a local Asian cooking expert, will be discussing the traditions of the Chinese New Year. According to Mr. Toy, the Chinese philosophy is that "the more you eat, the luckier you will be in the new year." To that end, he will demonstrate the preparation of egg rolls and wontons, both of which are traditional dishes prepared at this time of year. According to Mr. Toy, egg rolls "symbolize wealth in the New Year because they look like gold bullion bars" and wontons "look like bags filled with good things so they represent prosperity and good fortune."
Mr. Toy was born in Hong Kong and came to the U.S. in the late 1950s. He is a retired teacher, principal and international educational consultant. He learned Chinese cooking from his mother in his family's home and restaurant kitchens. He has been teaching Asian cooking regularly for over 30 years, both at local kitchen stores and in adult education classes in several nearby communities. Chris's popular hands-on classes are built around his teaching skills and his deep appreciation for fresh, simply prepared food. Chris's cooking incorporates straightforward methods, fresh ingredients, and unique flavors, which all draw family and friends together to enjoy great food and one another's company. Mr. Toy has published several books on Chinese Cooking that are currently being sold through Amazon.
Please join us for this fun, instructive and interesting event. It can be found as a live-stream on the Facebook page of the Arts and Cultural Alliance of Freeport. The event will be recorded and posted as a video at the same location. This event is free to the public.