ART IS COMMUNITY X
Date: November 15, 2019 - November 17, 2019
Location: Saco River Theatre's Old White Church, Bar Mills, ME
---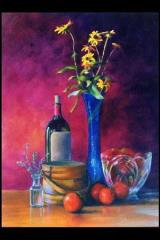 Friday, November 15th - 5 PM to 8 PM - Reception with the artists.
Gallery Hours:
Saturday, November 16th - 10 AM to 4 PM
Sunday, November 17th - 10 AM to 4 PM
November 30th - 10 AM to 4 PM
For priving viewings, call Pat Packard 929-6472 or Susasn Orfant 642-4219
Sponsored by the Saco River Art League, this popular, annual, juried show and sale of exceptional regional art and fine crafts, includes paintings, sculptures and child-friendly interactive art-making for visitors during the opening weekend. FREE - Donations are appreciated. The show remains hanging through December 7th. A portion of proceeds will benefit Saco River Theatre.