Abstract Explorations Workshop
Date: September 7, 2017 - September 9, 2017
Location: West Bath Grange, West Bath
---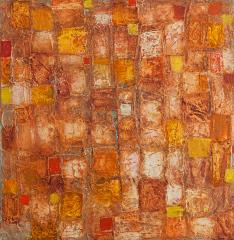 Join me in a 3 day workshop exploring new venues of approaching painting. The workshop is designed for artists who want to deepen their knowledge and experience of abstraction and who are looking for uninterrupted time, feedback and new inspiration to grow in their artistic practice. If you have not worked for a while, please use this opportunity to be inspired to pick up the brush again and create!
Every day will feature a guided compositional exercise and then lots of studio time to paint. Exercises will be based on the principles of design and a variety of techniques using oils or acrylics. I will be demonstrating some techniques that have worked for me and share my knowledge gained in a lifetime of painting abstractly!
My main goal is to support your art and to offer feedback that benefits your creative decision making process. I have taught classes and workshops in my winter studio in Baja California, Mexico for the last three years. Over the years I have taught at the Wadsworth Museum of Art in Hartford, Connecticut, the Birmingham Museum of Art in Birmingham, Alabama, the Gertrude Herbert Institute of Art in Augusta, Georgia and as adjunct professor at the Albertus Magnus College in New Haven, Connecticut and the Manchester Community College in Manchester, Connecticut. I designed the art curriculum and taught at the Great Path Academy in Manchester, Connecticut.
My experience and knowledge in facilitating new approaches will help you with technique, composition and subjective ideas. The idea is to give feedback that is helpful to you and strengthens your own practice. Throughout the three days I will lead critique sessions several times during the day as well as be available to meet individually with each artist to help them access what is important to their own personal artmaking.
Please feel free to contact me before signing up for the course if you would like to discuss your current body of work and goals. The format for the workshop is an intimate one, limited to not more than 8 students and encourages exchange of ideas in a safe and supportive manner. The space is open for you to work form 9 AM to 5:30 PM or you can use some of your time in the afternoon to explore local galleries and museums.
The workshop will take place on the first floor of the The West Bath Seaside Grange, located at 75 New Meadows Road. This building dates back to 1901 and offers large windows, beautiful old woodwork and lots of character! There will be plenty of space to create your own individual working area.
For more information please visit www.annehebebrand.com
Filter Events
Venue
West Bath Grange
75 New Meadows Road
West Bath
ME
04530
Anne Hebebrand
857/930-9849
moc.liamg@dnarbebehenna