Algerian Theater Company, Istijmam
Date: September 24, 2016
Time: 07:30 PM
Location: Denmark Arts Center, Denmark
---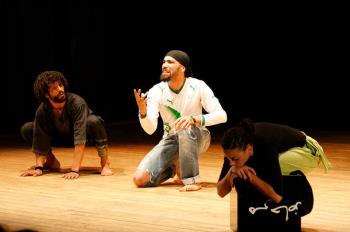 Mark your calendars for the first event of the Denmark Arts Center's Fall 2016 Season! Algerian theater collective, Istijmam, presents an original play, "Et'teffeh/Apples," on Saturday September 24 at 7:30 pm. Written by Algerian theater director and playwright Abdelkader Alloula who was assassinated in 1994, the play is reimagined and performed by his daughter, Rihab Alloula, and two other actors. Remounted here, this gritty, intimate production bears witness to Algeria's shadowed past and confronts the complex destiny of the present day. The company visits Denmark, Maine, during its first ever tour of the United States, which includes the John F. Kennedy Center in D.C. and La Mama in New York. The presentation of Istijmam is part of Center Stage, a public diplomacy initiative funded by the US Bureau of Educational and Cultural Affairs and the New England Foundation for the Arts. Don't miss this incredible company's one stop in Maine!
$15 Suggested Donation
7 pm Opening Reception
7:30 pm Performance
8:30 pm Post-performance conversation with the actors and Dr. Jane E. Goodman, professor of Anthropology from University of Indiana at Bloomington
Learn more at www.denmarkarts.org or http://centerstageus.org/artists/istijmam.
Reserve your tickets at www.denmarkarts.org, by emailing info@denmarkarts.org, or calling the DAC at 207-452-2412.