An Evening with Novel Jazz Septet
Date: November 13, 2021
Time: 07:30 PM - 09:30 PM
Location: Unitarian Universalist Church of Brunswick, Brunswick
---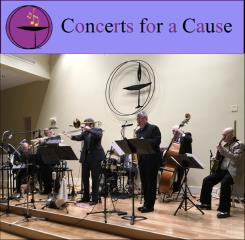 Novel Jazz Septet to Kick Off UUCB Concerts for a Cause
Novel Jazz Septet kicks off the reopening of the UUCB Concerts for a Cause series on Saturday, November 13 at 7:30 pm. To avoid a long wait at the door, concert goers should arrive early. Doors will open at 6:30 pm.
MASKING AND PROOF OF COVID VACCINES OR NEGATIVE TEST WILL BE REQUIRED AT THE DOOR.
The musicians of "Novel Jazz" have been performing straight-ahead jazz around Maine and New England for over three decades. They draw from the Great American Songbook and specialize in the works of Edward Kennedy ("Duke") Ellington and his musical collaborator Billy Strayhorn. Together these musicians wrote some 3000 compositions over their musical careers. The band members hail from all over Maine, and they have recorded 3 CD's. Several two-hour programs dedicated to Novel Jazz have been broadcast on Maine Public Radio's jazz show, "Jazz Tonight" over the years.
Despite Covid, the band has kept busy during the long hiatus with plenty of practicing at home, lots of zoom calls and doing arrangements of new Ellington and Strayhorn tunes, some collected from the Smithsonian Museum of American History as well as the Library of Congress.
Two-thirds of the proceeds from all this season's concerts will benefit Mid Coast Hunger Prevention Program and Immigrant Legal Advocacy Project.
Tickets for Novel Jazz are $15 in advance for adults, $18 at the door. Students & Children are $10. Tickets are available at the Brunswick Unitarian Universalist Church office (729-8515), Gulf of Maine Books, or online at https://ticketstripe.com/noveljazz.
Have a listen to Novel Jazz.
Filter Events
Venue
Unitarian Universalist Church of Brunswick
1 Middle Street
Pleasant Street
Brunswick
ME
04011
Organization
Unitarian Universalist Chruch of Brunswick
Shirley Bernier
2077298515
ten.iwg@snurbuu
https://www.uubrunswick.org/