Artist Talk: Galway, Ireland Residency
Date: November 15, 2021
Time: 02:00 PM - 03:00 PM
Location: Zoom, Zoom
---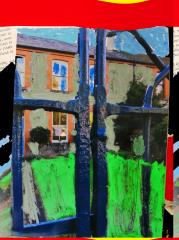 Greg Mason Burns invites you to attend an artist talk on Monday, Nov 15, at 2pm via Zoom. The link is provided below.
He will discuss his current project of working with abstract photography and abstract collage, in particular how he has developed this while at his current residency in Galway, Ireland.
A presentation will be given with opportunities to ask questions after. Hosted and moderated by Watershed Studios, Galway, Ireland.
Here is the link: https://us04web.zoom.us/j/71710780040?pwd=WDNJa1BvblYra2VnOWRVOGJjZHNSdz09
This residency is funded in part by a grant from the Maine Arts Commission, an independent state agency supported by the National Endowment for the Arts.