Basketmaking Class: Make an Easter Basket
Date: April 1, 2020
Time: 10:00 AM - 01:30 PM
Location: Tear Cap Workshops, Hiram
---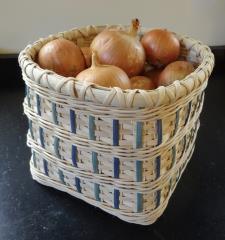 Basketmaking Class: Coming up April 1st:

Make your own fun and festive Easter Basket!
Make your own fun and festive basket, just in time for Easter! This long-handled basket with pops of color would be perfect for gathering eggs, just in time for the holiday, or for gathering herbs and flowers later in the year.
Tools and supplies provided, no previous experience necessary. Come learn the basics of weaving and leave with a beautiful and functional basket.
Wednesday, April 1st
10 a.m. – 1:30 p.m. (with 1/2 hour break for lunch)
Instructor: Ida Atkinson
Tuition and materials: $45
Class limit: 10 participants
We need at least 5 participants to continue with the class
Ages: 16+ to register
We'll meet at Tear Cap Workshops in the Community Woodworking Shop.
Please bring your own bag lunch (We have a refrigerator and microwave available if needed!)
About the Instructor, Ida Atkinson:
Ida Atkinson has been a basket case for over twenty years! Starting with the 100+ Carolina Stars as wedding favors at her own wedding, Ida progressed through classes offered at adult ed programs until she became the adult ed basket instructor in several area programs. A former elementary teacher, she has a passion for making learning fun. Come join the fun and soon you will also be mumbling, "Under, over, under, over…." in your sleep.