Comfort and Joy Opening Reception
Date: December 20, 2019
Location: Foundry Art Centre, Saint Charles
---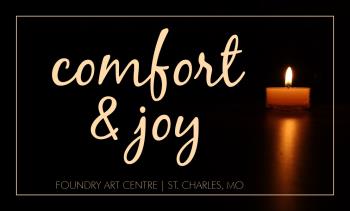 Friday, December 20th, 5:30pm - 8pm
The Exhibition is Free and open to the public.
Coinciding with the holiday season and New Year, Comfort and Joy showcases work reflecting happiness, serenity, and peace. Open to all forms of media, this exhibition will be a relief from the hectic nature of year's end, and a warm welcome to the new decade.
During the Opening Reception the Juror will be haning out three major awards. Two Juror's Choice Awards of $150 each, and the best in show receives a "Going Solo" Award. The "Going Solo" award allows the artist to be given a solo exhibition in our Gallery III space. The "Going Solo" winner from edge of Excess II", Leighton McWilliams, will be showcasing his black and white photography of Las Vegas and sculptures. In our Ameristar Gallery Michael Carera will be having his Emerging Artist show.
This Exhibition is juried by Bryan Haynes, a painter taking on the legacy of regionalist painters of the 1930's with his works about Indigionus people roaming the hillsides of Missouri. Since graduating of the Art Center College of Design in 1983 his artwork has been represented by Bernstein & Andriulli in New York, Ron Sweet in San Francisco, and Foster Rrepresents in St. Louis.
The gallery talks will be at 5:30pm, and awards will be given at 7pm.
The Foundry Art Centre is a dynamic, interactive center dedicated to the creation and presentation of contempoarary visual and performing arts. Our mission is to connect people with the arts through exhibitions, studio artists, performances, and education. Featuring a state-of-the-art gallery, the Foundry hosts national and international juried fine art exhibitions and curated traveling exhibitions.