Derek Gripper, Guitar
Date: April 24, 2020
Time: 07:00 PM - 09:00 PM
Location: Union Hall, Rockport
---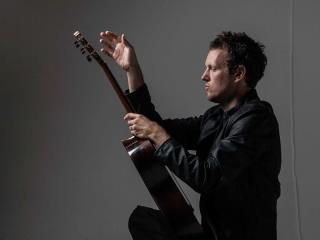 Back by popular demand, South African guitarist Derek Gripper transcribes the kora music of Mali, including the music of Toumani Diabaté for classical six-string guitar. The results mark a meeting point of the written tradition of Western classical music and the oral tradition of the West African griots.
Hearing Derek in performance, guitar legend John Williams immediately invited him to collaborate at three different concerts in London. His latest album, "Libraries on Fire" won a Songlines Award in 2017. A musical omnivore, this phenomenal artist presents a mix of repertoire including music by J.S. Bach and from his acclaimed recordings.
Our Café Nights Series invites you to enjoy the intimate atmosphere of Union Hall, a complimentary glass of wine and an evening of inspiring music to start off your weekend in style.