Eco Printing Workshop
Date: August 20, 2022
Location: Tear Cap Workshops, Hiram
---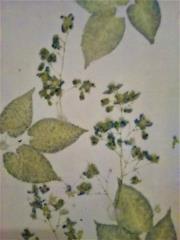 Learn how to print plants on fabric! Eco printing is a process where plant materials are placed on specially treated fabric and then steamed to release the pigments in the plants, leaving realistic prints of the plants on the fabric. Participants will learn about which plants print reliably and will have a chance to experiment with other plants. Each student will take home eight printed quarter yard pieces of fabric, in a variety of fibers including silk and linen. No previous experience is necessary, but students are asked to bring their own scissors or shears for cutting plants and a large bucket of plant material (leaves and flowers) for printing.
Saturday, August 20th
9:30 a.m. – 4:30 p.m. (with an hour break for lunch)
Instructor: Mary DeLano
Cost: $120 tuition and materials
Class limit: 10 participants
We need at least 3 participants to continue with the class
Ages: 18+ to register
We'll meet at Tear Cap Workshops in the Community Woodworking Shop.
We are asking all participants to be vaccinated for covid-19 if they would like to attend this workshop. We may also still be wearing masks, depending on state guidelines.
Please bring your own bag lunch! (We have a refrigerator and microwave available if needed.)
Items students need to bring to class: shears or scissors for cutting plants; large bucket of plant material (leaves and flowers) for printing.