FACULTY CONCERT SERIES Among Friends: Music for Strings and Winds
Date: April 5, 2019
Time: 08:00 PM - 10:00 PM
Location: Corthell Concert Hall, Gorham
---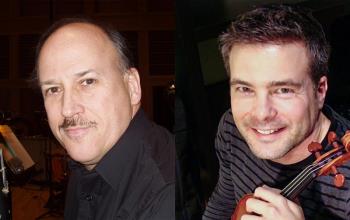 Thomas Parchman, Robert Lehmann and friends present an evening of string and wind chamber music. Ravel's Introduction and Allegro for flute, clarinet, harp and string quartet showcases the harp in exquisite interplay with this varied ensemble. The addition of a second viola and cello to the 'standard' string quartet allows for an almost orchestral sonority to overlay the intimacy of Brahms Sextet in B-flat. It would be difficult to find a work more richly varied and luscious than this masterpiece.
Tickets are $15 for adults, $10 for seniors and USM alumni, and $5 for students. Purchase tickets online at www.usm.maine.edu/music/boxoffice, or by calling 207-780-5555.
Those needing special accommodations to participate fully in this program, contact Lori Arsenault, (207) 780-5142, loria@maine.edu. Hearing impaired: call USM's telex / TDD number (207) 780-5646.
Filter Events
Venue
Corthell Concert Hall
Gorham
ME
USM Music Box Office
2077805555
ude.eniam@airol