FACULTY CONCERT SERIES: Laura Kargul in Concert, Wild at Heart
Date: October 19, 2018
Location: Corthell Concert Hall, Gorham
---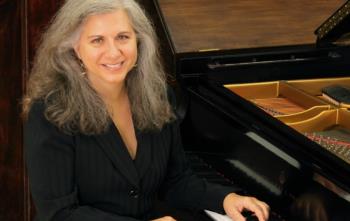 Pianist Laura Kargul will explore the emotional landscape of several masterworks infused with passion and drama. The program includes Mozart's playful yet heartfelt Twelve Variations on "Ah, vous dirai-je, Maman"; Liszt's ardent "Sposalizio" and brilliant opera paraphrase, "Réminiscences de Lucia di Lammermoor"; and Schumann's magnum opus, the "Fantasy in C Major, Op. 17," composed in the throes of unbridled desire and longing for his beloved, Clara Wieck.
The concert will be held at Corthell Concert Hall on the Gorham Campus. The University offers free parking for evening and weekend events in student or faculty lots. Tickets are $15 for adult, $10 for seniors, USM employees and alumni, $5 for students. To purchase tickets, call the Music Box Office: (207) 780-5555 // TTY: 780-5646, or purchase tickets online at www.usm.maine.edu/music/boxoffice.
Those needing special accommodations to participate fully in this program, contact Lori Arsenault, (207) 780-5142, loria@maine.edu. Hearing impaired: call USM's telex / TDD number (207) 780-5646.
Filter Events
Venue
Corthell Concert Hall
37 College Avenue
Gorham
ME
Lori Arsenault
2077805555
ude.eniam@airol