Heifetz On Tour debuts at St. Andrew's Episcopal Church
Date: October 22, 2019
Time: 07:30 PM - 09:30 PM
Location: St. Andrews Episcopal Church, Newcastle
---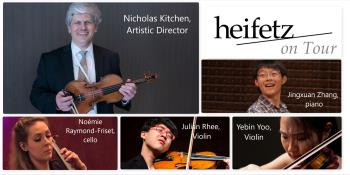 Heifetz On Tour debuts in the Damariscotta-Newcastle area on Tuesday, October 22 at 7:30 p.m. at St. Andrews Episcopal Church. Enjoy a night of great music played by a quintet of outstanding musicians from the Heifetz International Music Institute, renowned around the world for its training of the next generation of great string players.
This year the Heifetz Institute's new artistic director, Nicholas Kitchen leads the Heifetz on Tour troupe on its Down East tour. A faculty member at New England Conservatory, Mr. Kitchen is also the first violinist of the Conservatory's resident Borromeo String Quartet, an ensemble acclaimed for its "edge-of-the-seat performances" by the Boston Globe and co-founded by Kitchen and his wife, cellist Yeesun Kim, in 1989.
Mr. Kitchen will lead four outstanding Heifetz alums: Violinists Julian Rhee and Yebin Yoo, cellist Noemie Raymond-Friset, and pianist Jingxuan Zhang. They'll perform both solo and chamber works by a wide range of composers, including Bach, Beethovan, Saint-Saens, and Antonin Dvorak.
The October 22nd concert will take place in the magnificent acoustics of the architecturally renowned St. Andrews Church in Newcastle. Built in 1883, it was the first example of cottage Gothic Revival church architecture in the country, and the first U.S. design of English architect Henry Vaughan, a major proponent of the style. It was listed on the National Register of Historic Places in 1976. The Newcastle concert is part of a four-day residency by the Heifetz performers in midcoast Maine featuring a series of school, civic and outreach events supported in part by the Georgetown Island Educational Foundation.
Concert tickets are $18.00 in advance, $20 at the door. Discounted tickets for students are available and kids under 13 are FREE. For tickets go to https://www.eventbrite.com/e/heifetz-on-your-2019-at-st-andrews-church-newcastle-me-tickets-74019940635. For more information call 540-907-4446.