Holiday Offerings - 2019
Date: December 1, 2019 - December 29, 2019 (Sunday, Friday, Saturday)
Time: 08:00 AM - 03:00 PM
Location: Richard Boyd Art Gallery, Portland
---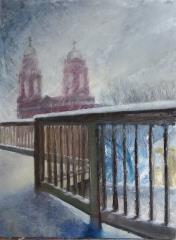 (Portland, ME) Just in time for the holidays and family gatherings, Richard Boyd Art Gallery opens an annual group exhibition on Sunday, December 1 at 10:00 a.m. The show features a selection of original paintings no larger than 24" x 24" created en plein air or in studio settings, depicting a range of scenes from traditional landscapes to contemporary abstracts; limited edition bronze sculptures, and works in clay.
'Holiday Offerings' is comprised of original works in a variety of mediums and styles by gallery artists' Patricia Chandler – oil, cold wax medium, and mixed media; Carrin Culotta – oil; Kevin Daley – oil; Randy Eckard – watercolor; Jane Herbert – acrylic; Jen Pagnini – oil; Susan Tan – watercolors; and a select offering of limited edition bronze sculptures by Charles Ellithorpe, DVM; and works in clay by Richard Boyd.
The exhibit is open free of charge between the hours of 10:00 a.m. and 3:00 p.m. every Friday, Saturday, and Sunday through December 29, 2019. Additional days and times by chance or scheduled by appointment.
For more information about the exhibit contact Richard Boyd Art Gallery by phone at (207)-712-1097, via email at info@richardboydartgallery.com or visit the gallery's website at www.richardboydartgallery.com . Like us on Facebook at www.facebook.com/RichardBoydArtGallery . Follow us on Instagram at #richardboydartgallery9327.
Copyright©2019 Richard Boyd Art Gallery All Rights Reserved