MECAmorphosis 2016: Thesis Exhibition
Date: May 6, 2016
Time: 05:00 PM - 09:00 PM
Location: Maine College of Art, Portland
---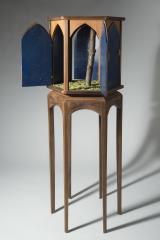 MECAmorphosis celebrates MECA's graduating professional artists.
The 2016 Thesis Exhibition Opening will be held in conjunction with the First Friday Art Walk. This year's exhibition features work by over 100 graduating students in our BFA, MFA and MAT programs. Light fare and interactive art on Floors 1, 2 and 3 of the Porteous Building. Free and open to the public.
For more information contact Dietlind Vander Schaaf at 207-699-5012 or dvanderschaaf@meca.edu.
Filter Events
Venue
Maine College of Art
522 Congress Street
Portland
ME
04101
Organization
Maine College of Art
Dietlind Vander Schaaf
207-699-5012
ude.acem@faahcsrednavd
www.meca.edu