Maine Outdoor Film Festival: Carrabassett Valley
Date: October 6, 2018
Time: 06:45 PM - 09:00 PM
Location: The Beach at Sugarloaf, Carrabassett Valley
---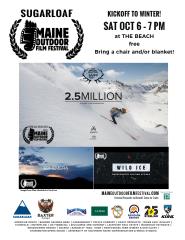 Join MOFF and Sugarloaf as we Kickoff Winter at our annual screening at Sugarloaf Homecoming Weekend!
Date: 10/6/2018
Time: 6:45PM
Location: The Beach at Sugarloaf, 5092 Access Rd, Carrabassett Valley, Maine 04947
Cost: Free for Sugarloafers, with suggested donation of $3 to $5 going directly to Teens To Trails.
Bring: A blanket and a chair!!