Museum L-A's Dance Party Under the Stars II
Date: September 7, 2018
Time: 07:00 PM - 11:00 PM
Location: Museum L-A, Lewiston
---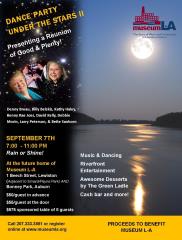 Are Your Ready to Dance?

Imagine a beautiful evening under a starry, moonlit sky, and you and your guests are rockin' with the music of the locally renowned GOOD & PLENTY band with the sounds of the 70's and 80's to enjoy! Band members include: Denny Breau, Billy Belskis, Kathy Haley, Benny Rae Jones, David Kelly, Debbie Morin, Larry Peterson, and Bette Sanborn.

Start the evening by enjoying fine dining at local restaurants that are partnering with Museum L-A to offer discounts or themed specialty drinks or meals to enhance your Dance Party experience. At the Dance Party, follow your fabulous dinner with scrumptious desserts crafted by culinary arts students from The Green Ladle!

Stay tuned as details of this big, bold and audacious event unfold!

REGISTER TODAY! Visit www.museumla.org or call 207-333-3881!