Museum L-A's Family Heirloom Preservation Workshop
Date: August 25, 2018
Time: 10:00 AM - 03:00 PM
Location: Museum L-A, Lewiston
---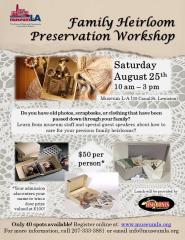 Do you have any heirlooms that have been passed down in your family from generation to generation? Perhaps you have your grandmother's wedding dress, or your great-uncle's scrapbooks, or your mother's baby pictures. Items like these can be decades old and hold a precious place in your heart and in your home. After they have been passed to you, it is your responsibility to protect them so they can be enjoyed by further generations. Do you know how to care for them?
Museum L-A is hosting the "Family Heirloom Preservation Workshop" to teach the general public about the ways that they can care for their precious documents, photos, or objects and stop the damage caused by common environmental threats. Emma Sieh, Collections and Exhibits Coordinator for Museum L-A, will be joined by conservation experts from the Northeast Document Conservation Center and the Maine State Museum to provide information and tips on how to maintain and store your own collections.
This event will be held in the Museum L-A gallery on Saturday, August 25 from 10:00 – 3:00. Tickets are $50 per person and include access to the full day of activities, free catalogs and informational booklets, as well as a lunch catered by Fishbones American Grill. When you purchase your tickets, your name will also be entered into a raffle to win a door prize of preservation supplies donated by Gaylord Archival and University Products valued at $100! There are only 40 spots available for this workshop, so please visit Museum L-A's website at www.museumla.org to register!