Opera Workshop: P.S. Bernstein, Directed by Malinda Haslett
Date: April 13, 2019
Time: 02:00 PM - 04:00 PM
Location: Corthell Concert Hall, Gorham
---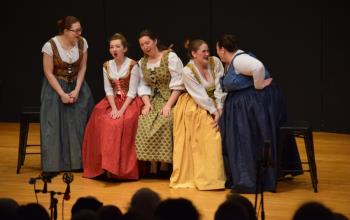 Saturday April 13 at 2:00 PM and Sunday, April 14 at 5:00 PM
Opera Workshop takes you on a ride through time and space, as we celebrate Bernstein's Centennial anniversary. Whether it is in Peter Pan, Trouble in Tahiti, or Candide, let your eyes and ears soar through Bernstein's musical Neverland.
Tickets: $8 adults, $5 students, seniors, USM employees and alumni
Corthell Concert Hall, USM Gorham Campus
Those needing special accommodations to participate fully in this program, contact Lori Arsenault, (207) 780-5142, loria@maine.edu. Hearing impaired: call USM's telex / TDD number (207) 780-5646.
Filter Events
Venue
Corthell Concert Hall
Gorham
ME
USM Music Box Office
2077805555
ude.eniam@airol