Richard Boyd Art Gallery April 2020 Exhibit Update
Date: March 31, 2020 - April 29, 2020
Time: 10:00 AM - 05:00 PM
Location: Richard Boyd Art Gallery, Portland
---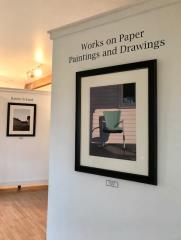 (Portland, ME) During these challenging times, out of an abundance of caution Richard Boyd Art Gallery temporarily closed on March 16th and will remain closed until nonessential businesses are allowed to reopen.
Rick and I felt installing the annual April exhibition 'Works on Paper - Paintings and Drawings' would bring joy to our patrons, and art lovers in the area. So, we installed the exhibit with images of paintings available for viewing on the gallery's website http://www.richardboydartgallery.com click on the CURRENT EXHIBIT tab, on Facebook at http://www.facebook.com/RichardBoydArtGallery , a few will be posted on Instagram atrichardboydartgallery9327 , and on Richard Boyd Art Gallery's Google Business page.
We hope images of these beautiful original paintings and graphite drawings bring a smile to your face and help calm you during these turbulent times.
Thank you for understanding and for your support of art and artists in Maine. We will get through this and emerge stronger and more united. Take care and stay safe friends.
If you wish to PURCHASE a painting from the April exhibit or any work of visual art at the gallery contact Rick or me by phone at (207)-712-1097 and leave a message. We will return your call within the hour.
Sending goodwill and love to all.
Pam Williamson and Rick Boyd
Copyright©2020 Richard Boyd Art Gallery All Rights Reserved