Seanachie Nights
Date: April 16, 2018
Location: Bull Feeney's, Portland
---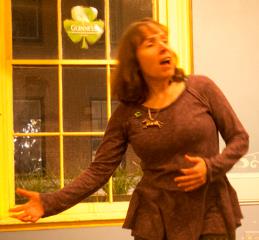 On Monday, April 16, Seanachie Nights, a monthly series of spoken word/musical performances from Celtic and British culture, presents Storyteller Lynne Cullen telling tales from the Ulster Cycle of myths, featuring the great warrior hero, Cúchullain, with a musical score arranged and played by Kurt Kish on electric guitar. This is the first time Lynne is performing this ambitious piece.
The Ulster Cycle, which includes The Táin (sometimes known as "The Cattle Raid of Cooley"), goes back to an age in which warfare, weapons, and single combat are paramount; a time of warriors, poets, powerful women, and towering above them all, Cúchullain, the "superman" of Ireland.
In this performance, Lynne tells stories that precede and follow The Táin:
The Boyhood of Cúchullain, How Cúchullain Got His Name, The Courting of Emer, and the Death of Cúchullain.
"I am looking forward, in the future, to tackling The Táin, but I hope these stories of the life and adventures of Cúchullain, the great, tragic hero of Ulster, will pave the way." — Lynne Cullen
Filter Events
Venue
Bull Feeney's
375 Fore Street
Portland
ME
04101
Lynne Cullen
207-805-1062
moc.oohay@seibrocawteht