Southern Maine Symphony Orchestra conducted by Robert Lehmann and Ben Richmond
Date: November 4, 2017
Location: Gorham Middle School Auditorium, Gorham
---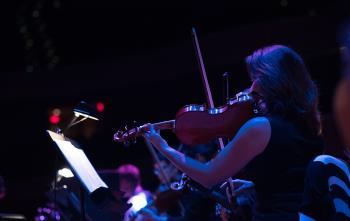 The Southern Maine Symphony Orchestra under the direction of Robert Lehmann will perform their fall concert at the Gorham Middle School Audititorium. The program will include Bach's Orchestral Suite No. 3, "Bolcom Commedia for 'almost' 18th century orchestra," Wagner's Siegfried Idyll, and Symphony No. 9 by Shostakovich. Conducting associate Ben Richmond will also conduct on this program.
The Southern Maine Symphony Orchestra is a full-sized symphony orchestra comprised of USM students and talented members of the community who audition for membership.
The orchestra performs challenging, professional level repertoire from all periods. Recently performed pieces include: Beethoven 9th Symphony, Mahler's Third Symphony, Mozart's Requiem, Schubert's Unfinished Symphony, Strauss Duet Concertino with choreography from the Portland Ballet, and fully staged opera productions.
The orchestra sponsors a biennial concerto competition and frequently collaborates with choirs on large scale choral works. In addition, professional soloists of the highest caliber are often engaged to perform with the orchestra.
Tickets are $8 for adults, and $5 for seniors, USM alumni, and students. Purchase tickets online at www.usm.maine.edu/music/boxoffice, or by calling 207-780-5555.
Those needing special accommodations to participate fully in this program, contact Lori Arsenault, (207) 780-5142, loria@maine.edu. Hearing impaired: call USM's telex / TDD number (207) 780-5646.
Filter Events
Venue
Gorham Middle School Auditorium
106 Weeks Road
Gorham
ME
Lori Arsenault
2077805555
ude.eniam@airol