The Importance of Being Earnest
Date: April 29, 2018
Time: 02:00 PM - 04:00 PM
Location: Main Stage, Russell Hall, USM Gorham Campus, Gorham
---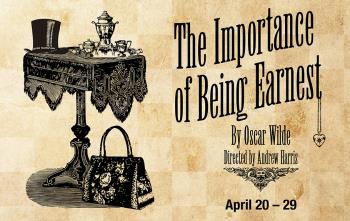 By Oscar Wilde
Directed by Andrew Harris
April 20 – April 29, 2018
Friday, April 20 at 7:30 p.m.
Saturday, April 21 at 7:30 p.m.
Sunday, April 22 at 5:00 p.m.
Wednesday, April 25 at 5:00 p.m.
Thursday, April 26 at 7:30 p.m.
Friday, April 27 at 10:00 a.m. – School Matinee (Grades 6 & up)
Friday, April 27 at 7:30 p.m.
Saturday, April 28 at 7:30 p.m.
Sunday, April 29 at 2:00 p.m.
The Importance of Being Earnest is Oscar Wilde's most brilliant tour de force, a witty and buoyant comedy. This superb satire is one of the funniest plays in the English language – the delightful repartee and hilarious piercing of hypocrisy and pomposity will make you laugh out loud. Two young carefree dandies, Algernon Moncrieff and the utterly reliable John (Jack) Worthing, lead double lives to court the attentions of the exquisitely desirable Gwendolyn Fairfax and Cecily Cardew. The gallants grapple with the riotous consequences of their deceptions, as well as with the formidable Lady Bracknel, and with a stage set for clever manipulations and hilarious confusion, being earnest takes on a whole new meaning!
Tickets: $8 students, $12 seniors, faculty, staff, alumni, $16 general public
Discount Wednesdays!
Join us for our 5:00pm performances on Wednesdays and get your seat for just $8! ($10 for our musical)
Please arrive at least 15-30 minutes early. Open seating starts 30 minutes before the start of the performance. Performances begin promptly; late arrivals are seated at the discretion of the House Manager.