USM Chamber Singers "Music of Living"
Date: April 26, 2016
Time: 07:30 PM
Location: Williston-Immanuel United Church, Portland
---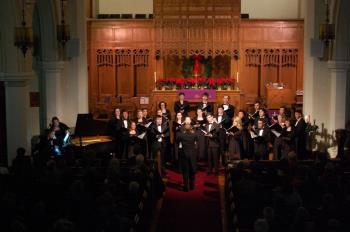 The USM Chamber Singers, conducted by Nicolás Alberto Dosman, perform an eclectic program of sacred and secular music. This concert will feature the music of living composers including compositions by USM students.
The musicians of the USM Chamber Singers are chosen through a careful audition process and committed to choral excellence, these undergraduate students have accepted a responsibility for musical distinction through a focus on warmth of tone, precise intonation, and the artistry of understanding the nuance of text.