UUCB Concerts for a Cause: STATE STREET TRADITIONAL JAZZ BAND
Date: September 24, 2016
Time: 07:30 PM - 09:30 PM
Location: Unitarian Universalist Church of Brunswick, Brunswick
---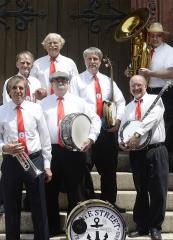 UUCB Concerts for a Cause presents State Street Traditional Jazz Band on Saturday, September 24 at 7:30 pm at the Unitarian Universalist Church of Brunswick, 1 Middle Street, Brunswick.
A slice of history and the "rousing" sounds of New Orleans Jazz are coming to Brunswick! The State Street Traditional Jazz Band of Portland honors the joyful roots and the true origins of jazz on Saturday, September 24th at 7:30 pm at the UU Church of Brunswick, 1 Middle Street, Brunswick, Maine. This concert is part of the church's "Concerts for a Cause" series, which raises money for the church and local non-profits.
The band's moniker states they have been: "Ricocheting off the Moon since 1989 – Bridging the Best of the Best New Orleans Traditional Jazz to Future Generations." People from all walks of life and every age group across the state, the country and abroad attest to the joyful sounds of this band.
John Page, the band's founder and lead trumpet player found himself in the Port of New Orleans as a young Maine Maritime Academy grad in the late 1960's. He meandered into the French Quarter and was captivated by the music of the legendary original Preservation Hall Jazz Band.
While pursuing his long maritime career, Page also followed his passion to preserve this music in its authentic form as a mix of up-tempo jazz, blues and old spirituals, as performed in the Big Easy by the musical "Greats" from the turn of the 20th century to the 1920s.
Delighted followers agree this music still touches the soul, even in 2016.
Outside of dedicated portions of various jazz festivals, original New Orleans music as celebrated by the State Street Traditional Jazz Band is not that common, which makes this concert an uncommon opportunity for the Mid-Coast.
Master musicians throughout the state comprise the band's line up: Page on trumpet, Peter Dunphy on banjo, Doug Protsik on piano, Bill Thurston on drums, Pat Whitaker on tuba, Barry Daniels on clarinet and Barney Balch of the Novel Jazz Septet on trombone.
Visit the band's website at: http://www.statestreettraditionaljazzband.com/home.html
Admission is $12 in advance; $15 at the door, available in the church office (729-8515), at Gulf of Maine Books, or online at http://StateStreet.brownpapertickets.com
Filter Events
Venue
Unitarian Universalist Church of Brunswick
1 Middle Street
Brunswick
ME
04011
Organization
Unitarian Universalist Church of Brunswick
Shirley Bernier
207-729-8515
ten.iwg@snurbuu
www.uubrunswick.org