UUCB Concerts for a Cause presents Jud Caswell
Date: January 8, 2022
Time: 07:30 PM - 09:30 PM
Location: Unitarian Universalist Church of Brunswick, Brunwick
---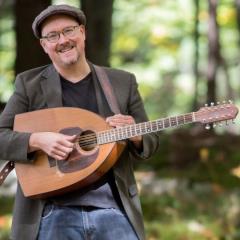 Award-winning singer-songwriter, Jud Caswell, will perform at the Brunswick UU Church for their Concerts for a Cause series on January 8, 2022 at 7:30 pm to raise money for this season's charities, Mid Coast Hunger Prevention Program and Immigrant Legal Advocacy Project.
MASKING IS REQUIRED.
ALL PEOPLE 12 YEARS OR OLDER
MUST SHOW PROOF OF COVID VACCINES
OR NEGATIVE TEST AT THE DOOR.
One of the leading singer-songwriters on the current scene, Jud Caswell is a master multi-instrumentalist, playing guitar, banjo, cittern, whistles and Irish drums. His interpretations of songs from modern acoustic to traditional folk and Irish are done with precision and care. He draws inspiration from the land like Mary Oliver, pushing gently into the specific until it unfolds into the universal. His words and warm, tender voice portray his landscapes like Wyeth, with a reverence for humble beauty.
Jud's originals have won some of the most prestigious songwriting contests in the country, including the legendary Kerrville New Folk competition. His songs have been taught at Berklee, recorded by Judy Collins, and named "#4 Song of the Decade" by New York's WFUV.
Covid-19 has not slowed Jud Caswell down one bit. Since March 2020 Jud has released two albums. "Live at the Seagull Shop Restaurant." went to No. 1 on the Folk Alliance International (FIA) chart and landed at No. 5 on the National American College and Community Radio Chart (NACC). In June Caswell released "Morning Cordial Vol. 1" The single, "The Great Divide," from the album was the #2 song of October on Folk Alliance International's Charts.
Besides performing, writing music, running Frog Hollow Recording Studio, setting up the technical aspects of producing UUCB church services, Caswell's response to Covid has been to post daily videos on his Facebook page, calling the clips the "Morning Cordial." These daily videos have provided connection during the pandemic and helped to lift the spirits of many of his friends and fans. With each song posted, Caswell collects donations and gives half of them to local causes such as Midcoast Hunger Prevention Program. The videos also show proof of the talent of this multi-instrumentalist who recorded himself singing and playing 5 instruments all at the same time!
Celebrate the reopening of Concerts for a Cause with the exceptional Jud Caswell.
Listen to samples of Jud Caswell:
Great Divide:
Singer/Songwriter Caswell takes great pride that this song has been loved and shared by Democrats and Republicans alike, and he hopes his grandparents would be proud.
Rock Road to Dublin:
An example of Jud singing and playing Irish music with a variety of instruments.
Filter Events
Venue
Unitarian Universalist Church of Brunswick
1 Middle Street
1 Middle Street
Brunwick
ME
04011
Organization
Unitarian Universalist Church of Brunswick
Shirley Bernier
207-729-8515
ten.iwg@snurbuu
www.uubrunswick.org