no plan b: An immersive multi-media tent event
Date: August 31, 2017 - September 2, 2017
Time: 08:00 PM - 09:30 PM
Location: Thompson's Point, Portland
---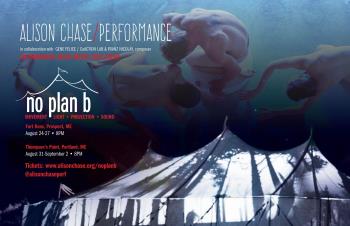 [enter event description here]
Alison Chase/Performance's "no plan b" to premiere late August in two Maine locations: Fort Knox and Thompson's Point
BROOKSVILLE, Maine -– Alison Chase/Performance in collaboration with Gene Felice/Coaction Lab and multi-instrumentalist and composer Franz Nicolay are excited to present the world premiere of "no plan b", a cross genre collaboration of movement, light, projection, and sound.
This collaborative and fully immersive production explores the potential of combining art and technology and has been under development for over a year. A collaborative research residency, made possible through the UMaine Intermedia MFA program allowed Gene Felice, director of the Coaction Lab at UMaine and choreographer Alison Chase to collaborate and explore the creative potential of light, immersive projection, and surround sound for this unique production. Original music for no plan b is composed New York City based composer, Franz Nicolay, best known for his role musicianship in the cabaret-punk World/Inferno Friendship Society.
Alison Chase, Artistic Director states, "There are many voices in this collaboration, making this a rich piece, and very different from anything I have created before. This cross-genre tent event incorporates cutting edge art, entertainment, creative innovation, and new technologies. It truly promises to an unusual multi-media experience that is not to be missed!"
"no plan b" will premiere at Fort Knox State Park in Prospect, Maine from Thursday, August 24th through Sunday, August 27th with evening performances at 8 pm. The following week,"no plan b" will be presented at Thompson's Point in Portland, Maine on Thursday, August 31st through September 2nd, with evening performances at 8 pm. A large sail tent will serve as the multisensory environment in which performances will take place rain or shine! Several regional food and beverage vendors will be on the grounds for both events and audiences are invited to arrive at 6 pm to grab a bite to eat and a beverage. Tickets are $25 each and are available online at www.alisonchase.org/noplanb and will also be available at the door.
Audiences are invited to arrive early to grab a bite to eat from Mia's Springrolls and Sesame Noodles or enjoy a beverage from Verona Wine and Design at our Prospect location. Our Portland venue boasts a fine selection of local breweries and eateries. Or feel free to bring a snack of your own!
Performance dates:
August 24-27, Fort Knox State Park, Prospect, Maine 8 p.m.
August 31- September 2, Thompson's Point, Portland, Maine 8 p.m.