This Is Not A Political Show by Chris Eaton
This Is Not A Political Show by Chris Eaton
Wednesday, December 21, 2016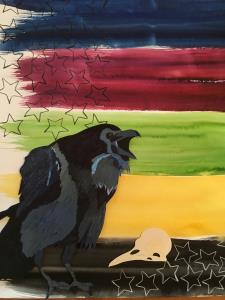 Chris Eaton's solo show "This is Not a Political Show" will have its opening reception on Friday, January 6 from 5-8pm. The show will be up from January 6 to February 25. Vestibule 594 is a small showcase-style gallery that is located on the ground floor of the Hay Building next to Starbucks on Congress Street. It is open during First Friday Art Walks and by appointment only. Contact Jessica at info@vestibule594.com for a private viewing.
"Something I see while I'm out strikes me and I take a photo. A few notes on composition and color help fix the image in my mind. Later, when I start a painting I get out the photo and the notes and compare them to my memory. The image, my memory, the photo, my notes--these become overlapping layers in the painting. The picture ages and time adds another layer. And perhaps viewers will add their own perspective to the piece. I live and work in Portland, ME, and many of my paintings are of the city, but ideas for pictures come from wherever I happen to be at the time: Chicago, New Orleans, San Juan, Antigua, Tarragona, and Barcelona have all been subjects for my work.
Thanks for looking". -Chris
Disclaimer:
Any person or entity that relies on any information obtained from this system does so at his or her own risk. Various websites may be linked through the MaineArts.com website. Content of such sites is not monitored by the Maine Arts Commission.