ArtWalk Gardiner to Celebrate its 12th Year in Historic Downtown Gardiner
ArtWalk Gardiner to Celebrate its 12th Year in Historic Downtown Gardiner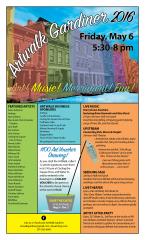 Caption:
ArtWalk Gardiner May 2016 Promo Poster by Lisa Wheeler
On Friday, May 6 from 5:30-8:00pm, ArtWalk Gardiner will kick off its 12 year of showcasing original fine art and crafts created by area artists. Featuring unique works of art ranging from paintings, drawings, fine art prints and photography to textiles, sculpture, jewelry and ceramics, this lively community celebration will take place in artists' studios, galleries, shops, and other venues along Water Street in Gardiner's beautiful historic downtown. First launched in 2005 by Artdogs™ studios and a handful of other area artists, the mission of ArtWalk Gardiner is to increase community awareness and appreciation of the visual arts, to encourage interaction with local artists and the public, and to nurture a supportive network that also enhances the local economy. Since its inception, ArtWalk Gardiner has drawn hundreds of appreciative visitors to Water Street to enjoy these festive evenings of art and good cheer. As in other years, this ArtWalk will feature hundreds of original works by dozens of local artists, including: Karen Adrienne, the Artdogs, Nancy Barron, Lynn Braff, Ken Carlson, John Carnes, Bonnie Colfer, Matt Demers, Hélène Farrar, Whitney Gill, Darcy Good, John Gregoire, Greta Joseph, Katherine Kollman, Kala Ladenheim, Allison McKeen, Rosemarie Morse, Julie Peacock, John Polhemus, Tanya Russell, Robert Saunders, Christine Sullivan, Anne Valley, Bill Wilbur, Diana Willette, Paul Willett, and Tina Wood. Artists from Circling the Square Fine Art Press, Monkitree, SpinOff Studio, and the Boys and Girls Club of Greater Gardiner will also hold group exhibitions. In addition to a huge variety of artwork for sale, the ArtWalk will also include free refreshments, artists' demonstrations, and live music by Brian Kavanah and Stan Davis of Hurry Down Sunshine. Visitors who collect signatures from 12 participating artists throughout the evening will be eligible for a drawing to win a $100 art voucher to spend on artwork of their choice at the next ArtWalk. The Gardiner Farmers' Market will host a seedling sale in the Johnson Hall mini-park, and "Upstream" will offer a variety of activities for adults and children at the Johnson Hall Theater. At 8pm, the artists of SpinOff Studio will debut their new play, "Into Clear Waters" at 405 Water Street. Local artists Matt Demers and Allison McKeen will also be hosting an after-party for participating artists and their guests at their Water Street studio loft later in the evening.
This ArtWalk has been sponsored by the Artdogs, Candle in the Window Country & Primitive Decor, Circling the Square Fine Art Press, the Craft Beer Cellar, the Gardiner Food Co-op & Cafe, Mainiac Brewing & Supply, Monkitree, Raggamuffins, and Touch of Grey Tattoo Studio. It is also supported by many other local businesses that will be hosting artists for the evening. For more information, please email artwalkgardiner@gmail.com, or find us on Facebook.
CONTACT INFO:
Downtown Gardiner


Water Street


Gardiner
Contact:
ADDITIONAL INFO:
Category:
Cost:
Sponsor:
Disclaimer:
Any person or entity that relies on any information obtained from this system does so at his or her own risk. Various websites may be linked through the MaineArts.com website. Content of such sites is not monitored by the Maine Arts Commission.