USM Chamber Singers "Music of Living"
USM Chamber Singers "Music of Living"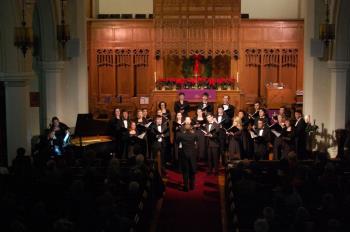 Caption:
Chamber Singers by USM
The USM Chamber Singers, conducted by Nicolás Alberto Dosman, perform an eclectic program of sacred and secular music. This concert will feature the music of living composers including compositions by USM students.
The musicians of the USM Chamber Singers are chosen through a careful audition process and committed to choral excellence, these undergraduate students have accepted a responsibility for musical distinction through a focus on warmth of tone, precise intonation, and the artistry of understanding the nuance of text.
CONTACT INFO:
Williston-Immanuel United Church


156 High Street


Portland
Contact:
ADDITIONAL INFO:
Category:
Cost:
Suggested donation at the door, $12
Sponsor:
Disclaimer:
Any person or entity that relies on any information obtained from this system does so at his or her own risk. Various websites may be linked through the MaineArts.com website. Content of such sites is not monitored by the Maine Arts Commission.