UUCB Concerts for a Cause: EMMA's REVOLUTION
UUCB Concerts for a Cause: EMMA's REVOLUTION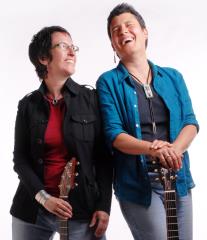 Caption:
Sandy O and Pat Humphries by Irene Young
Emma's Revolution is a classic, globetrotting duo comprised of activist singer/songwriters Sandy O and Pat Humphries. Their music is progressive, socially-conscious and shot-through with intelligence and cutting humor. One reviewer describes them this way: "Smart, funny and informative. Like Rachel Maddow and Jon Stewart with guitars."
With hauntingly beautiful harmonies and powerful acoustic instrumentals that deliver the energy and strength of their convictions, Emma's Revolution creates new standards in the art of social justice. Their songs have been sung for the Dalai Lama, praised by Pete Seeger and recorded by Holly Near.
Their song "Peace, Salaam, Shalom" is sung around the world and has been called the anthem of the anti-war movement. "If I Give Your Name" won Grand Prize in the John Lennon Songwriting Contest and the band's music has been featured on NPR's "All Things Considered", Pacifica's "Democracy Now!" and "The Thom Hartman Show".
Emma's Revolution were featured performers at the Parliament of the World's Religions in Salt Lake City in Oct 2015. The oldest, largest, and most inclusive gathering of people of all faiths and traditions", the Parliament brought together 10,000 global and religious leaders, grassroots activists, and practitioners from 50 traditions–and more than 80 countries— to collaborate to achieve a more peaceful, just and sustainable world. Emma's Revolution opened the Saturday evening session of speeches by famed primatologist and conservationist Dr Jane Goodall, Nobel Laureate Mairead Maguire and Dr. Tariq Ramadan, among others.
In the spirit of Emma Goldman's famous attribution, "If I can't dance, I don't want to be part of your revolution," Emma's Revolution brings their uprising of truth, hope and a dash of healthy irreverence to concerts and peace & justice, labor, human rights, environmental, LGBT and women's rights events around the world. Touring over 200 days a year, Emma's Revolution has performed at hundreds of events from Canada, Chile, Korea, Scotland, England, Israel/Palestine, Nicaragua, Cuba, and throughout the US spreading their message of peace and justice. Emma's Revolution consistently delivers performances that are an uprising of hope and harmony so powerful audiences leap to their feet.
Monies raised from the concert will benefit the programming of the church and local charities.
CONTACT INFO:
Unitarian Universalist Church of Brunswick


1 Middle Street


Brunswick
Contact:
ADDITIONAL INFO:
Category:
Cost:
Tickets are $20 in advance, $22 at the door. Available at the church office (207-729-8515), Gulf of Maine Books, or online at http://emmasrevolution.com/live/.
Sponsor:
Unitarian Universalist Church of Brunswick
ACCESSIBILITY INFO:
Notes :
Disclaimer:
Any person or entity that relies on any information obtained from this system does so at his or her own risk. Various websites may be linked through the MaineArts.com website. Content of such sites is not monitored by the Maine Arts Commission.