Winter CineGrand Film: Hitchcock/Truffaut
Winter CineGrand Film: Hitchcock/Truffaut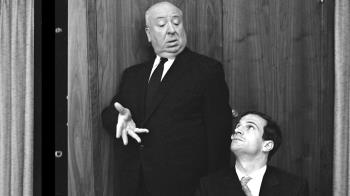 Caption:
Alfred Hitchcock explains a few things to Francois Truffaut in "Hitchcock/Truffaut". by Cohen Media Group.
The Grand's Weekly CineGrand series– a series of the best of the recent films, from both the Hollywood studios and independents, all playing at 7:30 pm on Tuesdays and 1:00 pm on Wednesdays at The Grand in Ellsworth- continues its new Winter season on Tuesday, March 29 and Wednesday March 30 with a documentary on the meeting of two of the greatest filmmakers of all time. In 1962 Alfred Hitchcock and Francois Truffaut locked themselves away in Hollywood for a week to excavate the secrets behind the mise-en-scène in cinema. Based on the original recordings of this meeting—used to produce the mythical book "Hitchcock/Truffaut"—this film illustrates the greatest cinema lesson of all time and plummets us into the world of the creator of Psycho, The Birds, and Vertigo. With appearances by legendary directors Martin Scorsese, Wes Anderson, David Fincher, Peter Bogdanovich and Paul Schrader. (2015. US 1hr, 20min. Directed by Kent Jones. PG-13.) For more information on this or other Grand events, please call the box office at 207-667-9500 or visit The Grand website at www.grandonline.org or follow The Grand on Facebook.
CONTACT INFO:
The Grand


165 Main Street


Ellsworth
Contact:
ADDITIONAL INFO:
Category:
Cost:
Tickets for this General Admission presentation are $7 for Adults, $6 for Seniors/Students and $5 for Grand Members.
Sponsor:
ACCESSIBILITY INFO:
Notes :
Disclaimer:
Any person or entity that relies on any information obtained from this system does so at his or her own risk. Various websites may be linked through the MaineArts.com website. Content of such sites is not monitored by the Maine Arts Commission.