Announcing Center Stage - Artists from Egypt and Ukraine
---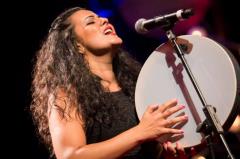 ANNOUNCING CENTER STAGE SEASON 4
Catalyzed by intense upheavals, Egyptian and Ukrainian artists are animating their nations' personal, social, and public spheres. With creativity the gathering point for discourse, they are challenging themselves, their communities, and the millennia-old cultures they celebrate, to renew and to change. Tours are forming now. Read the full announcement on the Center Stage blog.
On Tour July-December 2018
Join us! U.S. tours are being scheduled now
For its fourth edition,Center Stage, the successful exchange program initiated by theU.S. Department of State's Bureau of Educational and Cultural Affairsand produced by the New England Foundation for the Arts, will bring five contemporary music and theatre ensembles from Egypt and Ukraine.
Artist fees, international and domestic travel, logistics, and staffing are substantially underwritten. Arts presenters and communities interested in hosting an ensemble are encouraged to contact Lisa Booth Management, Inc.
BOOKING CONTACT
Lisa Booth, President
Deirdre Valente, Vice-President
Tel: 212.921.2114
GENERAL INFO
Adrienne Petrillo, Program Director
New England Foundation for the Arts
Filter Press Releases
Contact Information
Adrienne Petrillo
145 Tremont Street, 7th Floor
Boston
MA
02111
(617) 951-0010
gro.afen@ollirtepa