Learn to Paint
---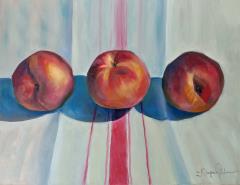 Learn to Paint
Have you always wanted to learn to paint, but can't make one of my workshops? Now you can study with me on Zoom. My new Tuesday session is starting August 11, and the evening session resumes August 17. And of course, if you're in mid-coast Maine, you can come to our plein air classes, starting August 13.

We've spent several weeks on perspective, which is what Ann Clowe is mastering so successfully in the photo below. That's in both the Zoom classes and our live ones. Different approaches; same content.
Not only have we spent a lot of time on color theory, we've concentrated on composition and paint handling. Maggie Daigle's sweet little still life, below, was done in a lesson on the lost-and-found edge. A class on accuracy in drawing led Lori Capron Galon to paint her wonderful Ode to Wayne Thiebaud at the top of the page.
What do these students have that you don't have? Absolutely nothing, except that they've taken the plunge and committed themselves to learning to paint.

We cover the same subjects indoors and outdoors:
Color theory
Accurate drawing
Mixing colors
Finding your own voice
Authentic brushwork
We stress painting protocols to get you to good results with the least amount of wasted time. That means drawing, brushwork and color. I'm not interested in creating carbon copies of my style; I'm going to nurture yours. However, you will learn to paint boldly, using fresh, clean color. You'll learn to build commanding compositions, and to use hue, value and line to draw the eye through your paintings.

Watercolor, oils, pastels, acrylics and—yes, even egg tempera—are all welcome. Because it's a small group, I can work with painters of all levels. The fee is $200 for the six-week session.

All my classes are strictly limited to twelve people.

Email me for more information and supply lists.

Thursday Plein air LOCAL class:
We meet in the greater Rockport area (hah!) on the following dates:
August 13
August 20
August 27
September 3
September 10
September 24

ZOOM Tuesday morning session:
We meet on Tuesdays from 10 AM to 1 PM, on the following dates:
August 11
August 18
August 25
September 1
September 8
September 22
ZOOM Monday Evening Session
We meet on Mondays from 6 to 9 PM, on the following dates:
August 17
August 24
August 31
September 14
September 21
October 12
As always, more information is on my website.